You want to get great value with less cash?
Bothered about good picture and sound quality?
We've got you covered.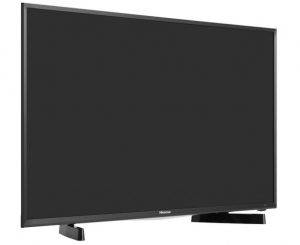 The H32M2600 is a 32-inch, HD-Ready TV with some basic smart TV functionality. Its performance surprisingly offers more than you might expect for so little money. Design-wise, its matte-black bodywork looks more like plastic, it sits on a pair of angled-out black feet and weighs 4.4kg. It is pretty much light in weight. The Hisense 32″ LED TV remote control is the best thing about its design. It sits nicely in the hand, features a decent button layout (including direct access to Netflix and YouTube), and feels very premium.
While the Hisense 32″ LED TV standard preset is adequate for normal TV viewing, there are few changes you have to make  if you want to watch a movie.
Starting with the Standard preset, reduce the backlight setting to around 33-34 to improve black level and colour tones. Also, turn off noise reduction if you're watching a DVD – or, especially, Blu-ray – to stop the picture turning soft. The Adaptive contrast feature is best set to medium to lift contrast a little without introducing backlight instability.
Smart features can't be taken for granted at the H32M2600's price level either, yet it currently supports Netflix, YouTube, the BBC iPlayer alongside a host of other more services. You can also access photo, music or video content from other devices on your network, including Anyview Cast technology to stream from an Android device directly to the TV with minimum or no hassle.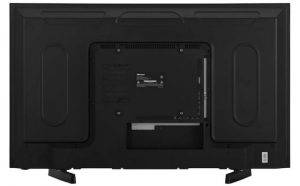 The H32M2600's connections include two HDMIs, one USB port, a component video input, PC support via one of the HDMIs, an optical digital audio output, and both Ethernet and built-in Wi-Fi network options. This TV doesn't support HDR or 3D playback, however. The H32M2600's pictures are slightly brighter than those of most budget small-screen TVs too, making it a solid bet for bright environments such as conservatories and kitchens.
The devices combination of fair black-level depths, respectable brightness and minimal clouding means you can see enough shadow detail during dark scenes to give them at least some sense of depth. It backs up its movie-friendly picture credentials with a better than average audio performance. Despite only claiming 6W of power for its speakers, it produces a surprisingly wide yet controlled sound-stage that keeps dialogue clear, convincing and accurately positioned on the screen.
The Hisense 32″ LED TV's all-round performance continues to make Hisense the budget brand.